combines a list of Oracle applications that help businesses with a wide variety of processes, focusing on ERP, CRM, and supply-chain management. The REQUORDIT's Oracle E-Business integration allows organizations to connect Oracle transactional data with supporting documents in OnBase.
REQUORDIT'S ORACLE E-BUSINESS INTEGRATION WITH ONBASE
The REQUORDIT integration for Oracle E-Business Suite is accomplished through direct queries and API integration to retrieve and pass company, vendor, job and coding information for PO and non-PO based invoice processing in OnBase. Imagine advanced searching functions across all your documents. Proven automated accounts payable processing with OCR, automated workflows and job specific approval capabilities make REQUORDIT's Oracle E-Business Integration top in the industry.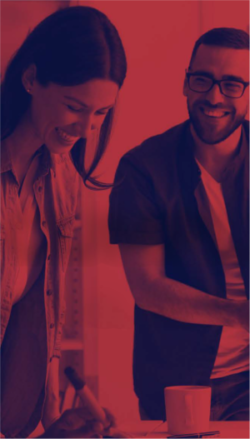 Your team will have easy access to documents while also taking advantage of OnBase native functionalities such as adding notes to documents. This solution not only speeds up processes but also frees up your teams' time to focus on more important tasks.
No need to worry about complicated software and training, our OnBase solution integrates seamlessly with your Oracle E-Business application. Making it easy for your team to work on their usual interface.
---
• Access key documents from your usual Oracle interface
---
• Eliminate duplicate data entry and error-prone manual indexing
---
• Deploy solutions rapidly without the need for custom code
---
• Shorten cycle times with automated indexing
---
• Speed up processes and free up staff time to focus on important tasks
OnBase is a powerful Document Management system that is a platform for all your document needs including AP Workflow. It can be used for many other use cases like Human Resources, Contract and Vendor Management and replacing legacy applications. More about OnBase>
REQUORDIT's OnBase to JDE integration involves real-time validations to the JDE database via queries or web services. REQUORDIT's JDE integration allows you to store and retrieve documents and provide easy access to critical information like purchase orders, invoices, packing slips, and more.
automates your processes, manages business content in one secure location and works with your other applications to deliver information when you need it.
is a software that was created with the purpose of helping organizations automate manual data capture and validation through an easy and fast online OCR solution.
Software centralizes data management, providing multiple business functions with a single view. With the REQUORDIT's integration for SAP, your team will be able to automatically extract data from sales order, invoices, forms, and more, all within your comfortable SAP interface.
JD Edwards Procure to Pay
Learn how to enhance, streamline, and automate your JD Edwards AP process using REQUORDIT's portfolio. These are some of the topics that we will discuss during our webinar.