With Premium Subscription
OnBase solutions are difficult to 'try before you buy' due to the sheer number of different solutions that are possible to configure with the OnBase platform. Therefore, while the imagination of your company's business leaders is the only true limit to what you can build, it can be difficult to get hands-on experience in the software prior to making a significant financial commitment.
Luckily, there are a host of demo labs available for free with a Hyland Premium Subscription on the Try Hyland site.
Manage and automate retention policies with OnBase's Records Management and Document Retention. Easily set policies at the Document Type or Folder level and take documents from their initial capture all the way to destruction/purge approval in one solution integrated with OnBase File Cabinets. 
2. Integration for Adobe Sign
OnBase's newest digital signing integration is available as a lab! See how your company could use Adobe's enterprise signature platform to send documents from workflow out for signature then automatically receive them back as revisions with all of the historical signature data logged. 
Take your OnBase solution not the next level with reporting dashboards that give you real-time lookups into OnBase documents, workflows, and applications as well as external databases for a 360-degree view with clickable filters and drill-downs that get you to the source document. 
4. Employee Health Questionnaire
Prepare for cold and flu season with this out-of-the-box WorkView application that collects health information from employees and then automatically emails those that are not to come into the office due to risk of infecting others. 
You may be using OnBase to automate major critical business processes, but don't forget about the small wins too. A Time Off Request solution can be easily built with OnBase and could be a great first project to take on without hiring outside developers. 
We're happy to introduce the topic of our August webinar which will be focused on the new and revamped Hyland University website. Would you like to discover more?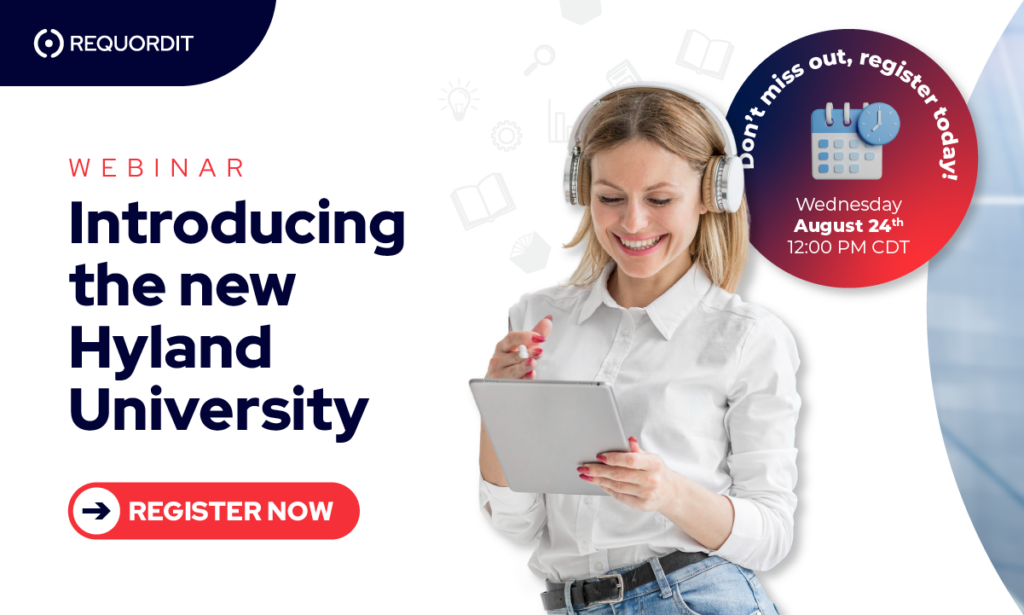 Using a combination of Unity Forms to schedule and complete building inspections and a WorkView application to aggregate inspection data, see one example of an inspection solution that can help you hit the ground running. 
7. OnBase Integration with Sharebase
Sharebase is OnBase's enterprise-grade file sharing service that integrates directly with OnBase workflow featuring a host of out-of-the-box actions. Easily send out large documents and files for external revision and automatically receive them back for review and approval. 
Outlook is known as OnBase's 4th client because you can do nearly everything using the Outlook Integration that you can do in the Unity or Web client including document queries, workflow, WorkView, and more! 
9. Salesforce Integration
OnBase's out-of-the-box Salesforce integration just added workflow and mobile capabilities to its document retrieval capabilities. See what you can do with Salesforce and OnBase today! 
Every contract process has multiple levels of review, routes, reroutes, and generally many hands involved in an asymmetrical structure. See one example of how OnBase's tools can help accommodate for any contract management process. 
Subscribe to our newsletter
Find out the hottest trends right into your email